Tokenization POC
Tokenizing real-world assets to make them tradable over blockchain networks

I was the sole UX / UI designer in this 4-week proof of concept project. I was responsible for conceptualizing an MVP in the market research stage to investigate with users if this was a viable business case for us. Eventually, the company didn't pursue the idea.
What is tokenization?
From art to buildings, the way we invest in assets could fundamentally change with the arrival of tokenization. The act of tokenizing assets threatens to disrupt many industries, particularly the financial industry. Those who are not prepared risk being left behind. – Deloitte: "The tokenization of assets is disrupting the financial industry"
The tokenization of assets refers to the process of issuing a blockchain token (specifically, a security token) that digitally represents a real tradable asset—in many ways similar to the traditional process of securitization, with a modern twist. These security tokens are created through a type of initial coin offering (ICO) sometimes referred to as a security token offering (STO) to distinguish it from other types of ICOs, which can produce different tokens such as equity, utility, or payment tokens. An STO can be used to create a digital representation—a security token—of an asset, meaning that a security token could represent a share in a company, ownership of a piece of real estate, or participation in an investment fund. These security tokens can then be traded on a secondary market.
A new "token economy" offers the potential for a more efficient and fair financial world by greatly reducing the friction involved
in the creation, buying, and selling of securities:
Greater liquidity

Faster and cheaper transactions

More transparency

More accessibility
The concept of asset tokenization is one of the main blockchain applications and the company investigated developing and selling this concept. Apart from company "tokens" or shares, it would also make it possible to buy and sell shares of real estate, art, and other assets. This project was an MVP and in the market research stage to see if this was a viable business case for us.
🔍 Problem
Making the tokenization of assets feel user-friendly was the biggest challenge of this project. The goal was to validate our idea with potential clients for product-market fit.
✨ Solution
Abstracting the creation of tokenizing projects, capturing all necessary data in a non-sequential flow for the time span appropriate to bank-client relationships, and a dashboard to follow it all
Team
1 UX/UI designer

1 product manager
Timeline
Overall: 3-4 weeks

Architecture: 1 week

Wireframing: 1 week

Design: 2 weeks
Research
At the beginning of this process, we started with an assumption of who the users are and start structuring the application. As the main personas would be Bank or asset management employees, and the bank-client "information gathering phase" could span over a number of days or weeks, it was important that we created a process that was completable in one go, as well as in parts. This means it's built as a non-sequential flow.

You could save the draft of your asset token issuance and continue with it at a later stage.

This is perfect for issuers (the users of this platform) gathering all the necessary information from the holders of the security. These parties may or may not be together completing the process, which makes this a rather important feature.

The first step in our process was investigating structure and features, defining user journeys as well as doing some rough Sketching.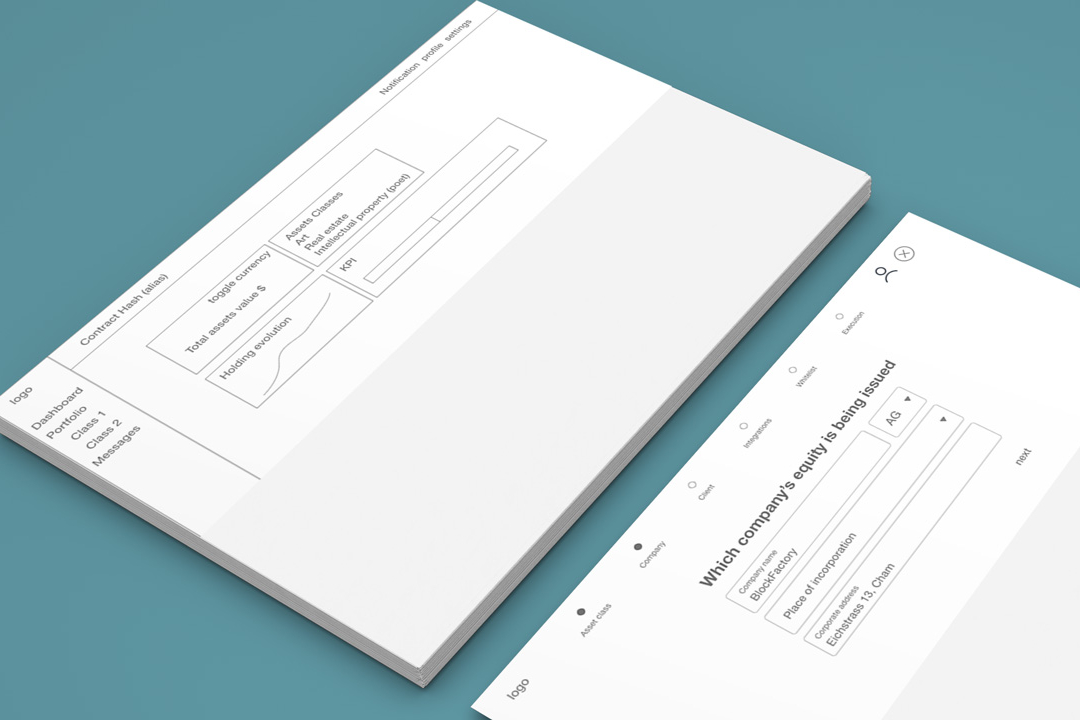 Sketches & validation interviews
I began the design process with low-fidelity sketches and wireframes to accelerate decision-making through visualization without losing time. My sketches were used in user interviews performed by our product manager and sales team. After validation of the data points from these interviews, we continued to more high-fidelity wireframing
The main purpose was a visual guide when interviewing target users

The initial information was gathered by a team brainstorming session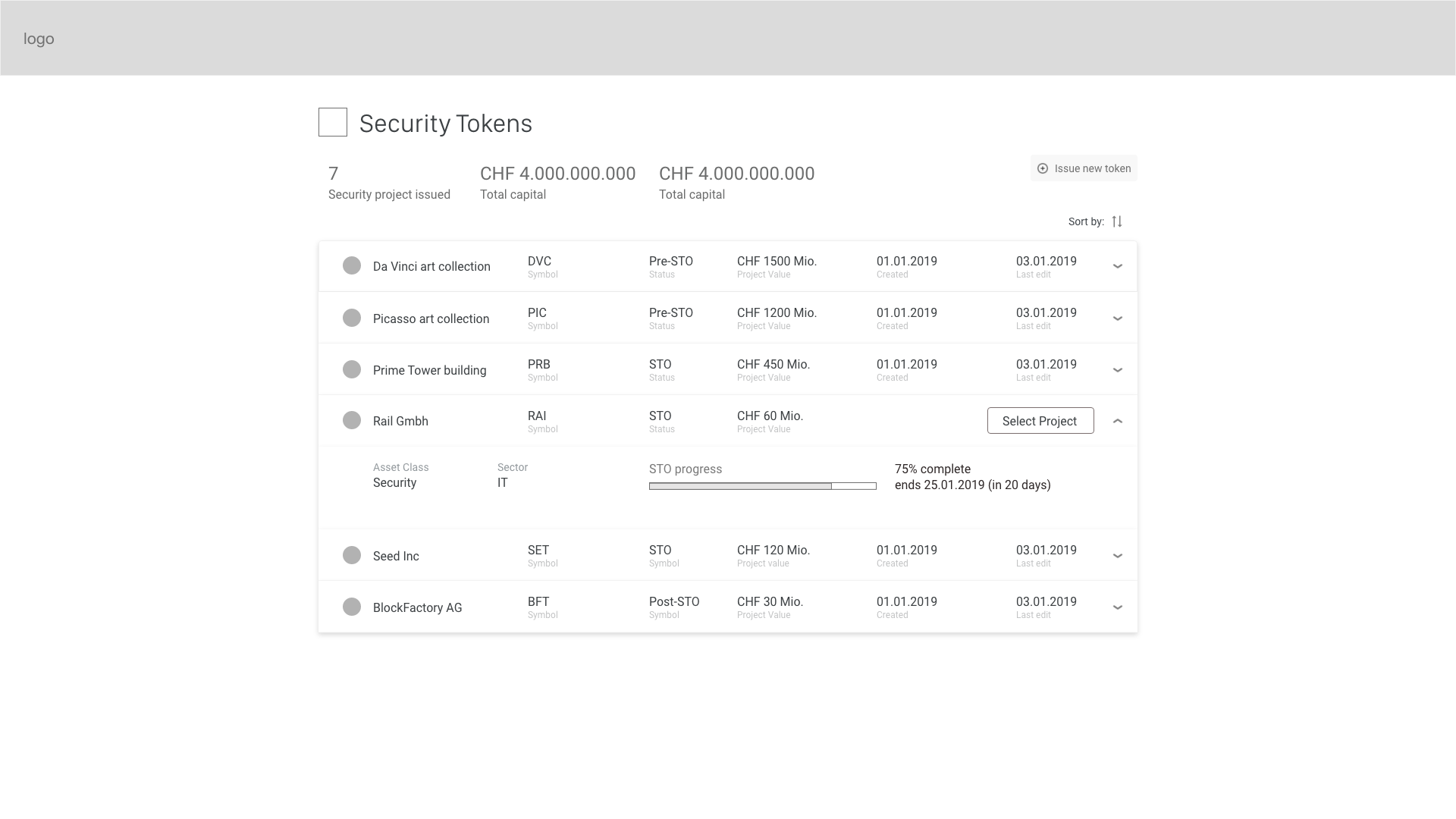 Wireframes
Using Figma, I translated my first sketches into low-fidelity wireframes. Then, I improved them by adding a bit of color and copy provided by the marketing team. At this stage, the wireframes were defined enough for some user testing.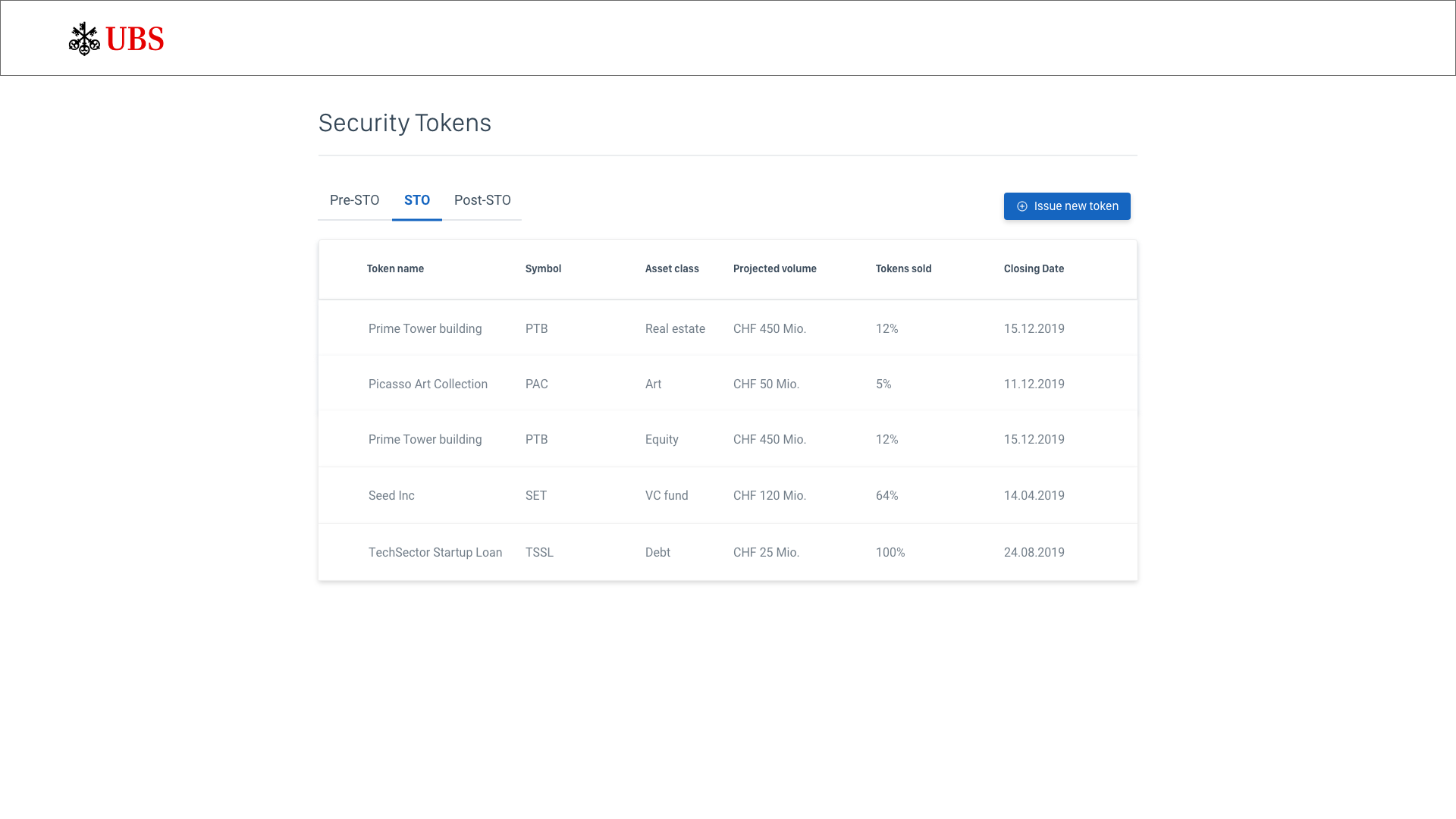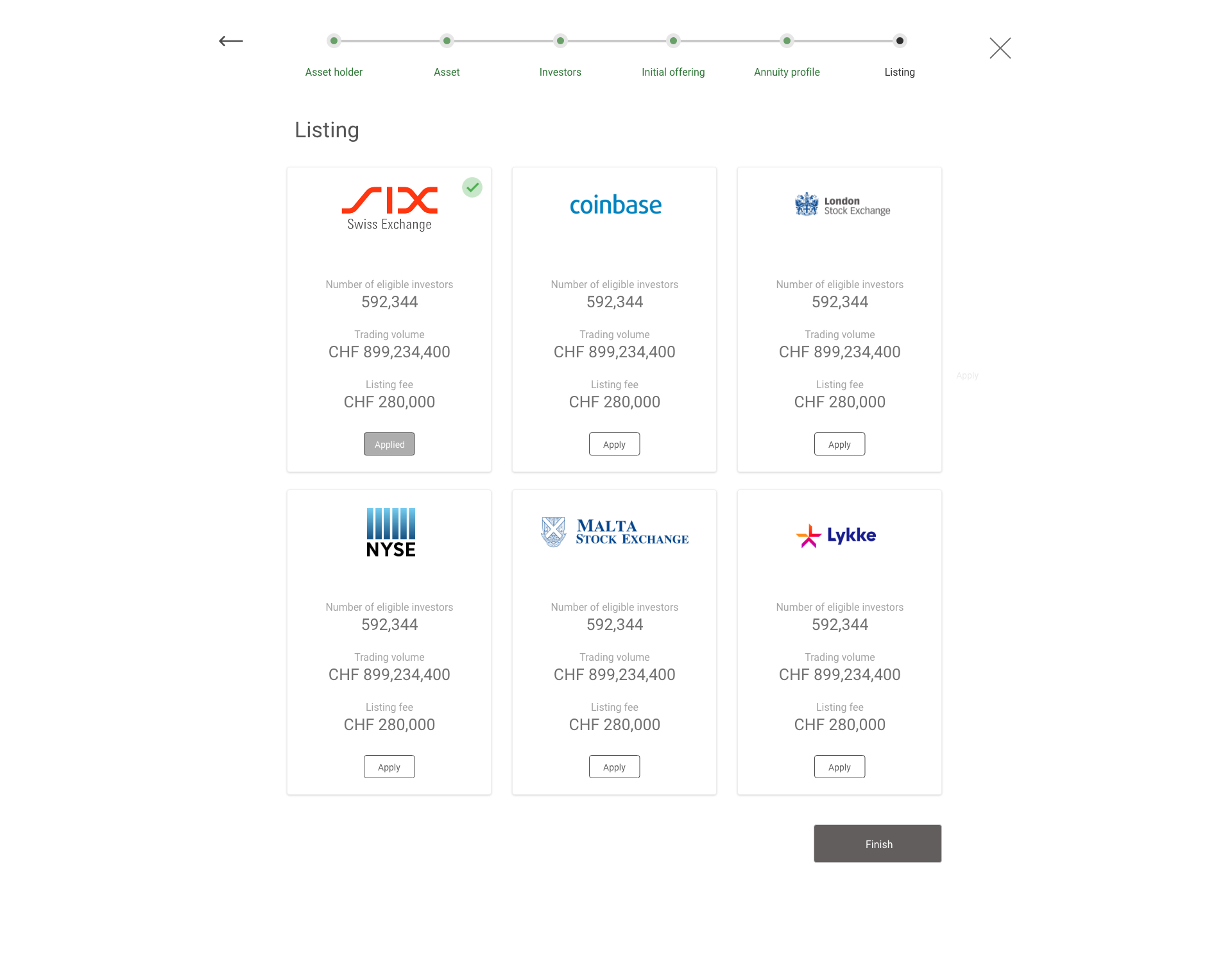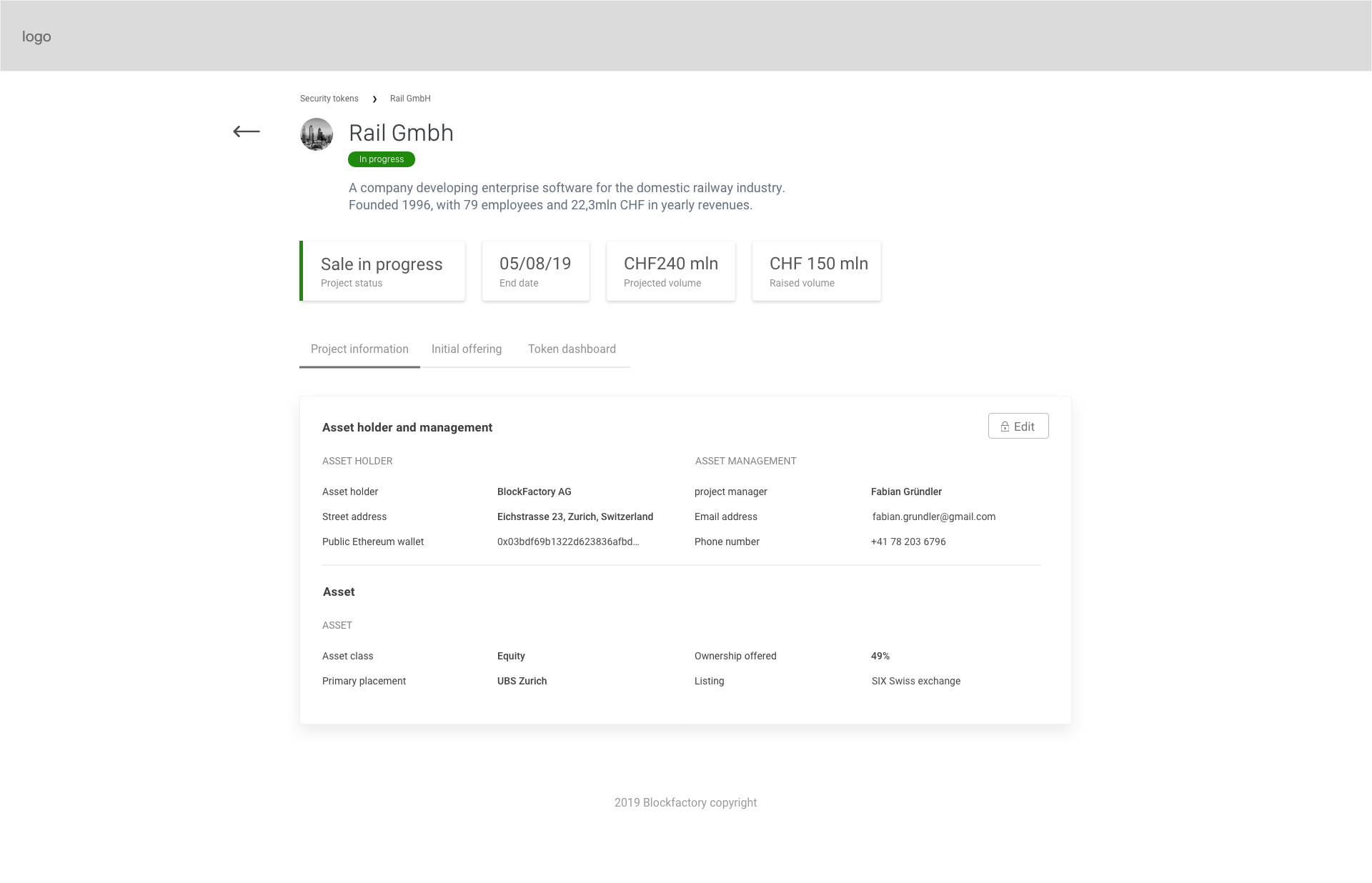 User testing
Based on two different user tests, I've made a few alternations and moved on to creating high-fidelity prototypes and finally designs.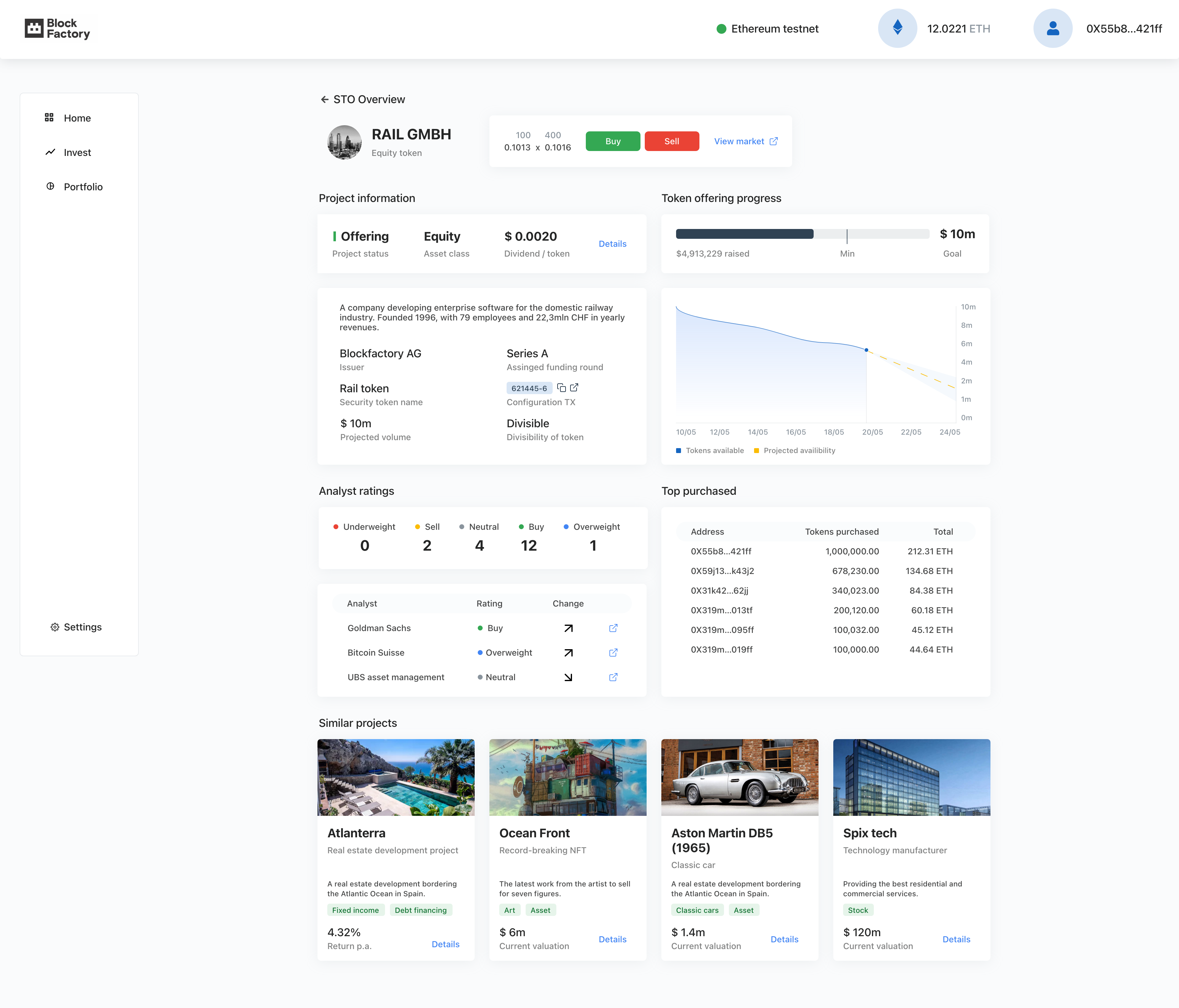 UI Design
After creating the wireframes it was time to go deeper into the design. The dashboard has a clear separation of datasets, in which I tried to keep a steady light color scheme. The buy-and-sell buttons at the top are highly visible and facilitate a quick link to trading.

For the registration process (not in this visual) we wanted a light and professional interface with very clear fields. By utilizing a step-by-step process with a clear progress bar it was easier for the users to keep track of their progress.
The style would be considered modern and light

I based my components on Material UI

Considering the POC I only designed a desktop version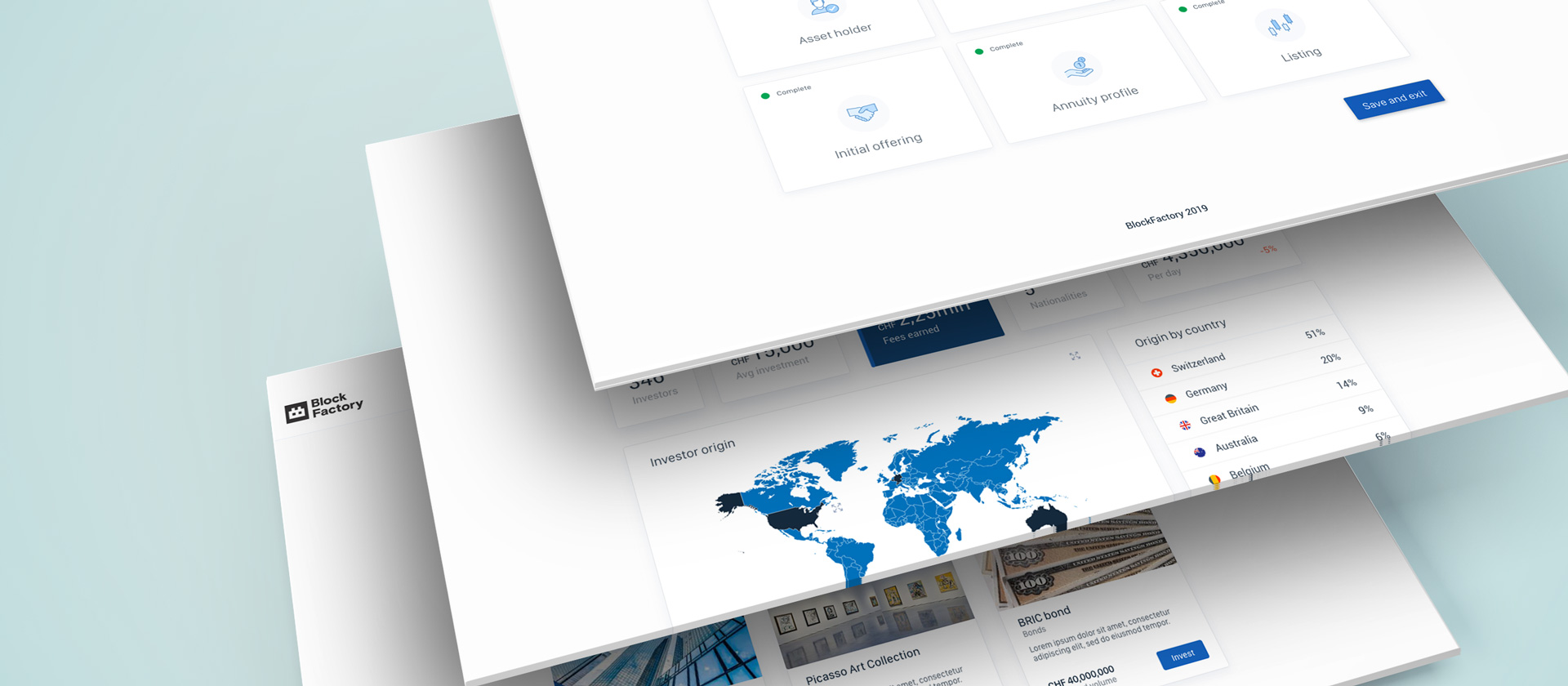 Next steps
Unfortunately, this direction wasn't pursued because of the competitive landscape (polymath, etc) being too strong. This was definitely a direction I was interested in pursuing personally, and I think will be a game changer in financial markets. One learning I take away is that it's important to do market research and due diligence before going too deep into a new business idea. In this case, with the 4-week time limit, we did a good job analyzing the idea and deciding not to pursue it.
Learnings
This project really gave me great experience in designing with blockchain-financial dynamics, tokens and shares, and working with different crypto and fiat currencies in designs.
Thank you for reading my case study!
Want to work with me? Feel free to contact me!
...or just say hello on my social media.